Great Moreton Hall is probably the finest and largest building in the area that has direct links to Mow Cop. The first thing to note is that Little Moreton Hall and Great Moreton Hall are in no way linked despite their close proximity.
In 1606 John Bellot (Sherrif of Cheshire) was responsible for building a timber framed manor house called Moreton Magna and was built by the Lake which was the manorial fish pond and also boasted a mill and boat house. Moreton Magna would have looked quite in keeping with the other local Little Moreton Hall and along with a few houses at Brownlow formed Moreton Manor.
We now jump forward to keep this article relevant to Mow Cop and to the year 1814 when Moreton Magna was sold to George Ackers of Manchester. George was one of Lancashires early cotton and textile giants. He died in 1836 and left his estate and fortune to his 24 year old son George Holland Ackers a former Lieutenant-Colonel with the Queen's Own Royal Staffordshire Yeomanry.
In October 1840 Geroge approached Edward Blore, Architect to King William IV and Queen Victoria, his previous work was building Buckingham Palace and doing much work on Windsor Castle. After discussions and inspecting the quarries at Mow Cop which were the manor quarries just at the top of Roe Park, construction on the new hall began 300 yards south of the original Moreton Magna in 1841. The quarries at Mow Cop were to provide all the external stone for the hall and the other new buildings taht were to be built on the estate. The internal stone was Caen stone shipped over from France and made the journey along the Macclesfield Canal to the estates own private wharf.
In 1843 Ackers requested and funded the redirection of the the then busy turnpike road which was to form part of what is now the A34. (Googlemap)
In 1844 the Hall was complete and then work began on the adjoining stable yard and clock tower. Once the family had moved in then Ackers had the old buildings on the estate including Moreton Magna were demolished.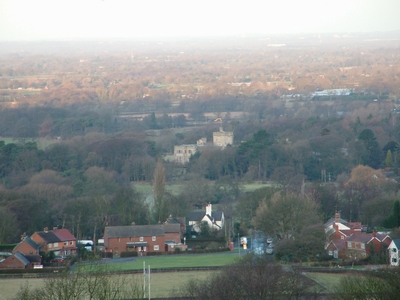 The hall boasted a huge walled kitchen garden growing almost every kind of fruit vegetable and herb in its 3 acre plot, there was game in abundance but not the Roe Deer that gave name to Roe Park which were abundant in bygone days.