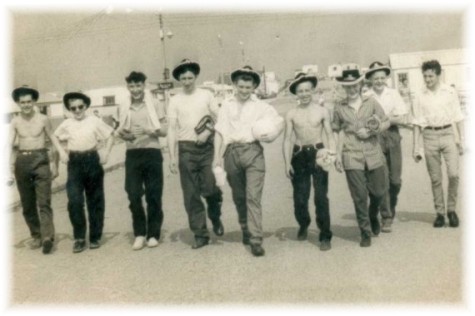 I started Mow Cop infant school in 1947. The first class was taken by Miss Baskifield, the second class by Miss Hastings, the third by Mr Hickman, the forth by Mr Meadowcroft and the fifth and last by Mr Hobson the headmaster.
When in the playground the boys would play conkers, marbles, cowboys and Indians and bus and lorry drivers. About half a dozen boys would go around the playground pretending to be driving a lorry or bus making the brr brr noise. The girls would play with skipping ropes, hop scotch and play with top and whip.
We used to be threatened with the cane a lot but can never remember anyone receiving it. I do remember one day while in Mr Meadowcroft's class on my own I took the cane from behind the blackboard broke it in half and put it back. When he found out he did a lot of shouting but I got away with it.
After school we would play war, but it was hard to get anyone to play a Jerry because the war had not been over long and we all hated the Jerry's.
Nearly every boy was in a gang. At first I was with a gang from Dales Green and we were always at war with the Woodcock gang. They kept to their side of Mow Cop and us to ours. War would erupt around bonfire night. They would try to steal or light our bonfire and we would theirs so we would have to have someone guarding it all the time if possible.
We managed to light theirs once but we were spotted and had to make a quick exit. They did manage to save their bonfire.
There was only one shop in Dales Green it was the Sanderson's. My mother did her main shopping at the Co-op in Mount Pleasant or the Co-op at Harriseahead. The Co-op just above the Ash did not open until later. There were quite a few shops in Mow Cop, Porters that is now Kellsal's. Mrs Ingram on the same side above near the church, at one time she had a fish and chip shop opposite and Eardley's two doors up from Ingram's on the corner of Church Lane. There was a small shop between Porters and Ingram's on the opposite side that was called Jeffrey's. The first detached house on the right going down on Church Lane was Balls shop. Morris's was at the end of Tower Hill going down. The house is still standing but Tower Hill has long gone.
I remember Mr Cottrell coming round the streets on his horse and cart selling ice cream, the ice cream was a yellow colour and I was told it was made from duck eggs.
In Dales Green the main milkman was Mirick Baily, he would come round with his horse and cart and the women would take down their milk jugs for him to fill up. He would ladle it out of the churn with his pint or half-pint ladle.
There were four bus firms that ran from Mow Cop. Rowbothams ran from the bank to Mount Pleasant, Dales Green, Newchapel and then on to Tunstall. Stanyers ran from Mow Cop church and later from the castle to Tunstall. P.M.T ran from the bank but instead of going to Newchapel it turned right at Whitehill and went through Kidsgrove to Tunstall. Lawton's buses only took the mill girls to Congleton. I think they only had the one bus. On the early buses the seats were wooden slats. All the old people called P.M.T sowseeation, slang for association. Association the name before it was P.M.T.
I remember going to school in clogs; they were great for sliding in the playground with, but the tips had to be replaced a lot. My granddad repaired all our footwear. Clogs were just starting to go out then. Most boys wore boots with hob nails in they were not as good for sliding in. In the winter when there had been a frost we used to make great slides on the playground and on the pavements when we were not at school.
No one had a TV then because there was no electric so we used to listen to the wireless that was powered by big glass batteries and these had to be charged up once a week. Mr Jepson used to charge ours up. He used to live in Church Lane, Mow Cop. He had what was called an accumulator and he used to charge every ones up for a small price.
Harry Hine.