Whilst your birthplace and the place that you grew up in are always special to you, Mow Cop is no different to anywhere else in that it has seen many changes and much development over the past 60 years. In many cases there are no contemporary pictures available but every effort has been made to convey the scene as it was then by use of modern photographs and descriptions.

Not only has Mow Cop changed by times and standards have also changed. The freedom, which we had as children, is rarely available to the child of today and, in the writer's opinion, and whilst this situation may be unavoidable, this is to the detriment of the child's development. It is sometimes difficult to view the past other than with rose tinted spectacles but every effort has been made to make this account as true to life as possible.

This account is self-indulgent and the writer makes no excuse for that. It is incomplete and, in some cases, it may be inaccurate but it is a reflection of the time that it happened.

The area of Gray's Close at the Bank only came into being in the 1970s. At the time of my childhood, the corner of land bordering The Bank and Birchtree Lane was a piece of waste ground used as a Recreation Ground ( the Rec) Below that to the top of Spring Bank was a large cultivated field. The Rec was mainly thistles and stones but, in our childhood it was a centre for football, cricket and, for some of the older boys and girls, for other activities.

The Beginnings.

I came into this world early in the morning of Thursday 13 April 1944.

My father was a colliery deputy working shifts at the Victoria Colliery, otherwise known as Black Bull, in Knypersley, Since his shifts were, predominately nights, 10.00 pm until 7.00 am or afternoons, 2,00 pm until 10,00 pm, it was decided that my mother should give birth at my Aunty Annie's house at Rock Side, Mow Cop. In those days a hospital birth was unheard of and a midwife was not always available, although the midwife did visit after I was born.

T

he border between Cheshire and Staffordshire runs through Mow Cop which resulted in me being born in Staffordshire by about three yards since the boundary runs along the rocky escarpment known as the Fox Rocks which forms the back garden of Rock Side.

v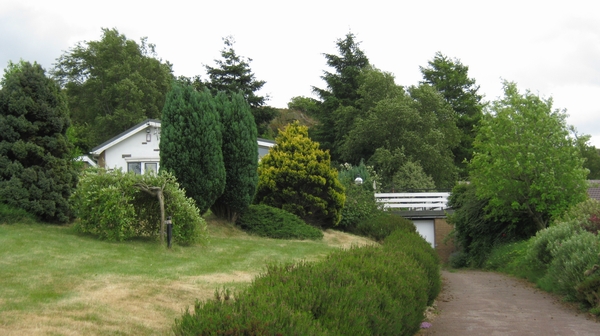 The picture above is a view of one of the properties built an the Cheshire side of Mow Cop with the Fox Rocks barely visible behind the house and trees.
The original cottages of Rock Side have long since been demolished and replaced with executive houses and, indeed, the Fox Rocks also find themselves as the rear boundary of new houses now built on the Cheshire side of the hill. At the time of my birth, there were no houses on the Cheshire side of the Fox Rocks,
Two days after my birth, we moved from Rock Side to our house at Brake Village, the Bank on the Cheshire side of the hill but the journey I made from Rock Side with my mother and Auntie Annie would be repeated on my own many times over during the next few years.
Two doors further up Brake Village lived Olive and Reg Taylor and they had their first son, Roy, very soon after I was born. Living so close it was inevitable that we would become pals and, in fact, we spent our pre-school years, our Primary School years and our Secondary School years as best mates before, as is often the case, we developed new friendships separately and ultimately we drifted apart. Roy left school to work for the CEGB and moved to Rugeley, after which, I rarely saw him but as kids we could not have been closer.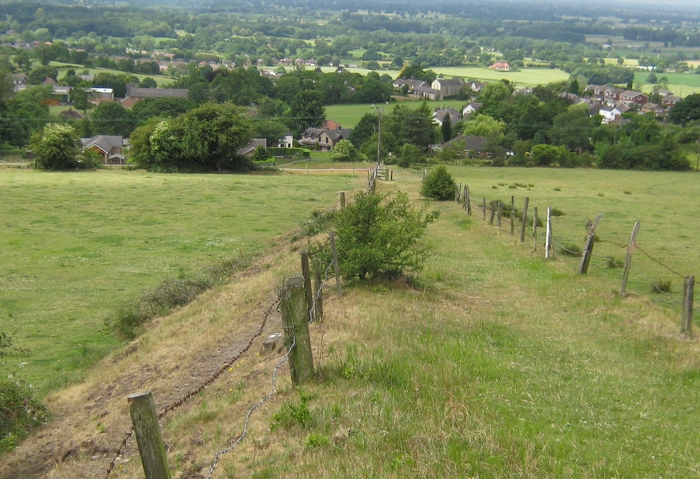 This is a view of part of our "playground". This is the Brake running from the top of Mow Cop to our front door My house is located in the centre of the picture whilst Roy's house is just to the left of the white house but hidden behind the trees.
At the age of around 3 years, we were each given a pedal car (they matched so our mothers must have compared notes). For reasons only logical to a three year old we associated our pedal cars with delivery lorries or, at least, something to do with goods deliveries and, since all lorry drivers and workmen appeared to be called Bill (or, at least, in our eyes) we each renamed the other as Bill. From that point on our games always involved referring to each other exclusively as Bill.

The neighbours got so used to it that they started calling us Bill themselves

At that time we were the only kids of that age around Brake Village (there were a couple of girls but you couldn't play with girls could you?). By this time Roy had a new young brother, Barry, and Tom and Mary Cotterill had moved in to a house just below us on Brake Village. They had a son, Colin but, again, he was too young to play with so, by the time we started to school in 1949 or so, he was the only real pal I had, and I was his.

W

e, and Roy's dog, spent every waking hour together playing every kids game, disappearing up to the football field all day returning only to grab a jam buttie. Nobody seems to have jam butties any more and, whilst contemporary knowledge tells us they are not part of a "balanced diet" they were our staple snack – filling and quick so that you could get back to the important business of playing as quickly as possible. We rarely ventured more than a few hundred yards from home but we didn't need to. Within a quarter mile radius we had brooks to wade in, to dam, to catch newts from. We had trees to climb up, to swing from and to provide all of the raw materials to make bows and arrows. With a pilfered piece of knicker elastic you could make a catapult. We had everything we needed. and it was free. Since we saw everything through the eyes of a child it is impossible to remember with absolute truth but it seemed to us that the sun shone every day and all day in the summer, and that, there was always snow to sledge in or ice to skate on in winter. Certainly we had far more freedom than a child of today has. Even as four or five year olds our parents could go for hours without seeing us and some of the things we did would now be considered dangerous but we were only doing what every other kid did in that area at that time and I cannot remember anyone getting hurt other than the mandatory grazed knees,

Between the football field and the road to Mount Pleasant there was a comparatively steep grassy slope where, in summer when the grass was dry, and using a metal tray or similar as a sledge, we would go from top to bottom at breakneck speed. Throughout the descent there were stones sticking out of the ground, which often launched you into the air to possibly land on another stone. If you avoided the stones, and if the grass was particularly slippery that day, your only form of breaking was to run into the gorse hedge at the bottom. Recalling it now brings feelings of trepidation but not at the time. I don't know how you would measure if a childhood had been idyllic but I think that our early years around Bank and Brake Village were pretty close. Our families were not well off but we had everything that we needed, we were loved and we had the environment, and the freedom to explore that environment, that children from wealthy homes would have envied.

My mother had worked in the mills in Congleton before my birth but stopped working to bring me up. Similarly Roy's mother was always there, although she had a part time cleaning job in a pub in Congleton two or three days a week. If my mother was not about for whatever reason, Roy's mother was my temporary surrogate mother and the same with Roy and my mother. It went a great deal further in that the entire neighbourhood kept an unobtrusive eye on every child as they played and, something that would not be tolerated today, if a child got into any mischief he/ or she could expect an ear bending from any of the neighbours, family or not I feel certain that this contributed greatly to the way we grew to respect people and property. That is not to say that we were angels – we were not, but we were just ordinary boys growing up.

Up to the age of five, I don't think we had a care in the world but life requires direction and restrictions so we started to primary school,


Woodcocks Well Primary School, Mow Cop

Woodcocks Well Primary School is located virtually on the Staffordshire/ Cheshire border with views over the Cheshire Plain. There cannot be a better located school anywhere in the country.

In the late 1940s/ early1950s the school playground extended North Easterly bordered by Woodcock Lane and Rockside, which gave the children full access to the top of Rockside. The playground itself consisted mainly of outcrop rocks and heather which would, today, be considered too dangerous for children of any age but this was the finest adventure playground that any child could have wished for. The playground has now been "sanitised" and part of it is now a car parking area. My first teacher was Mr Priestman who was every child's idea of a favourite aunty. Entering school for the first time is a difficult experience but Mrs Priestman was the perfect primary school teacher. She was always calm and friendly and she instilled a joy into the learning process. My next teacher was Miss Bailey who I found a little scary. Early in my second year at the school, we were given some coloured plastic pegs as an aid, as I recall, to counting. In circumstances I cannot remember, I lost some of the pegs and was so scared of punishment from Miss Bailey that my mother had to take me to school the next day. I am sure now that there would not have been any serious repercussions but it didn't seem that way to a six year old. Apart from my first day at school, that was the only time that I can remember my mother having to take me to school. Rain or shine the kids from the Bank walked up the Brake and along the top of the Brake (now called Halls Road) to the school in the morning and back the same way after school. When we became a little older, we would occasionally walk up to the village (Mount Pleasant), calling at Fred Hall's shop in the Village and then up Chapel Street past the Parish Hall to the school.

My time at Woodcocks Well school was enjoyable and I will always remember it with a great fondness but my last year at the school was the happiest and, yet, the most demanding of all. This was the year leading to the 11+ examination which determined if you were to go on to Grammar School or Secondary Modern school. I never considered myself the brightest of pupil but I was always prepared to work hard and, fortunately, my main teacher during that year was Miss Forrester. Miss Forrester was a middle-aged spinster who lived on her own on Spring Bank. As I recall she had a crackly voice and looked a little like the wicked witch from the Wizard of Oz but she was a wonderful, and inspirational, teacher. I passed my 11+ and I cannot overstate the role that Miss Forrester played in that. If you were prepared to work for her she would do everything within her power to help you. She was amply helped by Vernon Ball who was the school headmaster at the time, and taught the older children.

There were probably no more than 40 or 50 pupils at the school, many of which still live in the area. I readily remember many including Julian Hollinshead, Harry Wright, Madeline Dixon, Susan Bowers, Ann Goodwin, Elizabeth Cork, David Ogden – the list goes on. I worked hard at primary school but we all had fun too. Cowboys and Indians hiding in the rocks occasionally with one of the girls tied up as a prisoner, gardening in the school garden (now the netball pitch adjacent St. Luke's Church) and – Country Dancing. Country Dancing was always very difficult for the boys at the school because it was always considered a "girlie" thing but we had to do it (If I remember correctly it was Miss Forrester who played the piano for the Country Dancing). The one thing that made the dancing acceptable was if you were able to grab the right partner. Without mentioning names, there was one girl that every boy wanted as a partner and one girl that every boy tended to avoid... The school grounds were undulating which made it impossible to have a proper football field but, at one point, we used a piece of land at the top of Church Street near the bottom of the Rocks. This was not owned by the school and must, therefore have been borrowed or hired from a local farmer. It was far from flat but it served us well.

The school had no central heating ( nowhere did then ) so, during the winter months when it was really cold, there was a cast iron coal burner at the front of the room which the caretaker would regularly bank up with coal – even during lessons. When I say "cold weather" this only related to temperatures below zero. Above that was considered mild and you were expected to dress accordingly. I spent six years at the school but, having passed my 11+ I had a choice of going to Kings School Macclesfield or Wolstanton Grammar School. Since two of the older lads from Mount Pleasant, Colin Boswell and Maurice Turner, already went to Wolstanton that was the school selected so, n September 1954, myself and Roy Taylor started at Wolstanton Grammar School.

A

move to the Grammar School meant a partial separation from many of my friends from Woodcocks Well although we still met up in the evenings and weekends. Nevertheless, it was inevitable that new friendships would be forged and some of the old friendships would wane. I have always considered that moving to Grammar School was the first step in growing up and, therefore, has only a peripheral role in the story of a Mow Cop childhood.

Out of School Time

Having started to Primary School, my circle of playmates widened but I still spent a lot of time at my Auntie Annie's on Rockside. Aunty Annie was ten years older than my mother and was married to Cephos ( honestly !) Cotterill.

Cephos (or Ceph as he was called on weekdays ) was a strange man who would, today, be regarded as eccentric. He was very religious and was given to suddenly bursting into a hymn or a prayer at any time regardless of where he was or whom he was with. He was a lover of music and, if listening to a band whilst on holiday, would often ostentatiously conduct the band himself from a position as close to the proper conductor as he could get. Whilst he was odd, he was a kind and a gentle man.

Annie and Cephos had two sons, Eric and Bill. Eric was about 10 years and Bill about 3 years older. When I was around seven years old, Eric was seventeen or so and was, in my eyes, an adult. At the time Eric had a job as a salesman at Palfryman's Furniture store in Tunstall and was engaged to be married to Eileen Stubbs from Sands Road, his childhood girlfriend, In fact Eric did marry Eileen but tragically she died giving birth to their child. The baby also died. Bill, being nearer to my age, was one of the reasons I spent so much time at Rockside. On many weekends and during school holidays I would spend all day there and around Mow Cop with Bill and his friends. The only one I can recall with certainty was Eddie Ratcliffe who also lived at Rockside.

We spent a lot of time around the Castle and the Old Man O Mow, particularly the castle. At that time there were no safety barriers or any form of restrictions in or around the Castle so we were able to climb into the windows of the building but, much more dangerously, we were able to traverse the base of the Castle on the Staffordshire side. The ledge that went around the base seemed barely wide enough to plant a child's foot on with the frightening prospect of the vertical drop into the "Sugar Well " as the drop on the Staffordshire was known, The walk around the Castle was regarded as right of passage for the local lads and, whilst most did it, there were a number who refused to do it -looking back they were probably the sensible ones.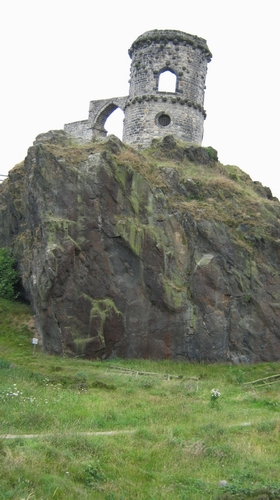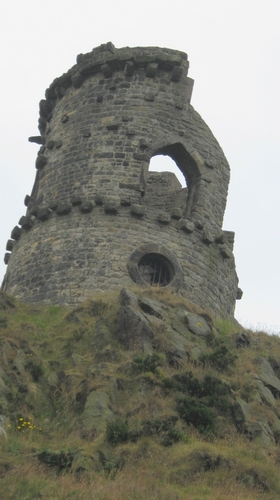 Above Left This is a view of the Castle showing the "Sugarwell". Access to this side of the Castle is now fenced off but in the 1940'/50s it was possible to walk around the Castle.

Above Right The Castle looking forbidding in a view taken from the North of the Castle

We played and messed about until way after dark which meant that I often had to return home on my own in the dark. If there were paedophiles around at that time, we were never aware of them and the area had no crime of any sort. Although I have no recollection of ever seeing him, there was a man by the name of Joey Carter who lived in Mount Pleasant, who was, apparently, a "bad 'un" and had spent time in prison. It seemed to me, even at the time, that the local parents used him as the local bogey and if they ever needed to bring their children into line. I believe that Joey Carter was probably guilty of nothing more than a bit of poaching and, perhaps, getting drunk,

So walking home on your own, even in the dark, was not considered dangerous by myself or my parents. It certainly would be now but times were so different then..

.

I would leave my Aunty Annie's, over the wall at the top of the garden and then scale the short climb down the rocks and across the field to join  Woodcocks Lane. Turning left Woodcocks Lane I reached the wall of St, Luke's churchyard where I turned right along the "top of the Brake " and down the Brake to home. Usually I would run all the way for no other reason that is what kids did.

I cannot remember with clarity if it was Bill or Eric who started to talk about the ghosts frequenting St. Luke's churchyard knowing that I had to pass the churchyard on my way home, For a while it had an effect and, as I jogged past the churchyard, I fancied I heard something eerie and quickened my pace accordingly, Not daring to look back I found myself sprinting all the way down the Brake to home. Perhaps misguidedly, I think I could have beaten Linford Christie in a sprint down the uneven Brake in total darkness.

I would not consider this to be a fear because, had it been so, I could have gone up to the Primitive Methodist Chapel and down the path at the bottom of Bourne Street to reach the Brake but, as a kid, I was concerned for a while – on a couple of occasions I cut across the field on the opposite side of Woodcocks Lane and past the old tunnel entrance.

I remember mentioning it to my mother and, with true mother's wisdom, she said that there were no such things as ghosts but, if there were, I should remember that my maternal grandparents were both buried at St. Luke's and they would always protect me. Amazingly, the prospect of harm coming to be at the churchyard never occurred to me again and, on a couple of occasions, I stopped at the wall next to my grandparent's graves for a quick chat with them. I never knew my maternal grandmother but I had lived with my grandfather until his death when I was eight, and we had always been the best of mates. I knew they would always look after me,

Particularly during the school summer holidays, it would be 10.30pm before I got in and, with no school to go to in the morning, I would often stay up until my dad came in from work at around 11.00pm if he was working the afternoon shift. I certainly didn't appreciate it at the time but t seems to me that my parents and their ilk were so much tougher than the adults of my generation. My father was typical of many at the time in doing what he had to do for his family. As I have mentioned earlier, he was a miner at the Victoria Colliery in Knypersley and finished an afternoon shift at around 10.00pm. On occasions he would have worked a "double" shift which could have been 12 or 14 hours underground and then have to walk back home. Leaving the colliery he would walk through Brown Lees, up Tower Hill Road, over the top of Mow Cop and down the Brake – a distance of about four miles and the same again the next day. When I was very young, I am not sure that they had showers at the pit  because my dad would often arrive home with the dirt of a days labour underground. It was not uncommon for the miners to be injured, often seriously, but it was all too common for a miner to arrive home cut and bruised from an incident underground. I recall my father arriving home one night a gapping wound down the side of his face. I was horrified and asked what had happened but, typical of the miner at that time, he said that it was nothing and he had been hit with " a piece of dirt " That particular piece of dirt  must have been a substantial lump of coal  and the wound obviously needed stitches but he cleaned it up, and pulled the wound together with a sterilised needle and plain cotton. He went to work as normal the next day.

Through my father, I knew many of the old school miners at the time and they were the bravest and most genuine group of people it was possible to meet, The miners strike of 1984 was two years before my father died and I know that he did not totally agree with the tactics used by Arthur Scargill as the miner's leader but he believed that, for largely personal reasons, Margaret Thatcher had decided to kill the NUM and, indeed, the mining industry. Some of the tactics used by a small minority of miners during the strike were questionable but they were absolutely right to fight for their industry. By that stage I knew what the miner's job entailed and I was one of many who would have liked to make Margaret Thatcher and her cabinet work a single shift underground to truly appreciate the quality of the men she was destroying.

Having walked, perhaps, fifty miles to and from work during the week my father would often suggest that we all go for a walk at the weekend. On a summer Sunday evening many families went for country walks and we were no different than most.  Our walks varied in their route but were always "proper" walks which meant they were long walks.

A typical walk could be up to Mow, across the top and down the Big Wood (Roe Park) to join the canal at Ackers Crossing. We would then walk south following the canal to Kent Green wharf, often with a diversion to Moreton Old Hall, before walking up Spring Bank to home. I guess a walk like this is probably more than six or seven miles and, weather permitting, this would be repeated the following Sunday evening.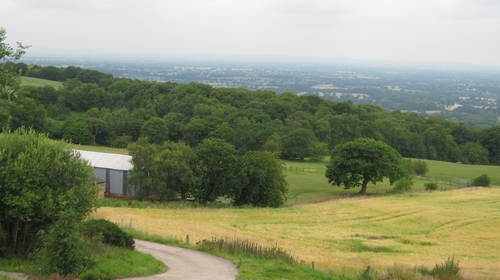 This is a view of the "Big Wood ", properly known as Roe Park. This photograph is taken from the Staffordshire / Cheshire border at Congleton Edge looking West towards Cheshire
v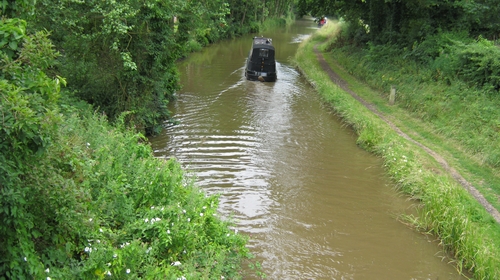 A view taken looking South of the canal at Ackers Crossing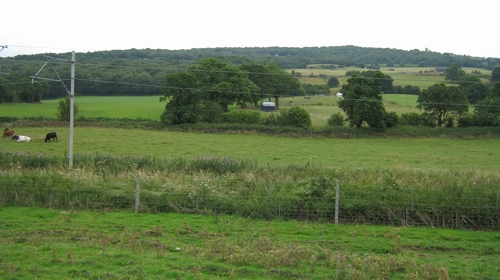 A view of the "Big Wood" viewed from Station Road at Ackers Crossing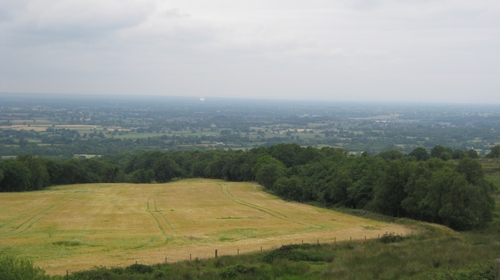 A view over the Cheshire Plain taken from the Staffordshire / Cheshire border
The Bank The Parish Hall in Mount Pleasant had, for many years, been the only non-church Assembly Rooms for Mount Pleasant and the Bank but, in the early 1960s, a new Village Hall committee was set up to raise funds for a new Village Hall to be built part way between The Bank and Mount Pleasant, Money was raised through dances, jumble sales and raffles and, finally, the new Village Hall was opened in 1965 with the official opening ceremony being performed by Jimmy Saville. I have always considered that The Bank starts at the Village Hall and runs to part way down Spring Bank where Kent Green begins, Opposite the Village Hall is an entrance to fields a track leading to, what was at the time, Darlington's farm, Immediately through the entrance, however, there is another track running off to the left parallel with Mount Pleasant Road below and beyond Butchers Bank ( which is the turn in the road just beyond the Village Hall en route to Mount Pleasant). Along this track was a field which we (the lads from The Bank and Mount Pleasant ) gathered to play football. If memory serves me correctly this area was known as the Machine Fields, The field was small and largely covered in gorse but it was relatively flat, During school time we would meet up after school and play until the light went and in the holidays and at weekends we would often play all day. Individuals would pop home for a quick bite to eat whilst the game went on.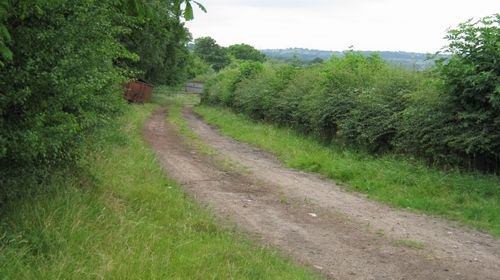 The track leading to our "Football Field" in the Machine Fields
v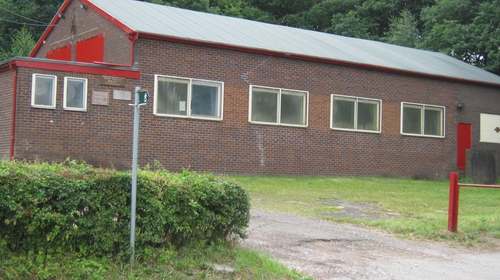 The Village Hall
v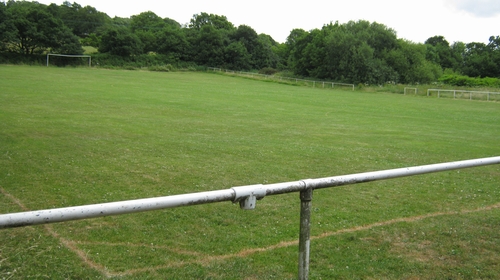 The Football Field above the Village Hall - home of Bank Athletic
v
Travelling from the Village Hall, the first houses to be encountered are the "council" houses on the right hand side facing the field. The council houses comprised eight or ten houses running to the bottom of Brake Village.
At the bottom of Brake Village on the main road, as Mount Pleasant Road was called, stood the shop of Arthur Richardson. This shop could have been the model for "Open All Hours" serving everything for fresh food to paraffin. I cannot remember Arthur having an assistant but the shop was open virtually all day, every day except Sundays. It was a wonderful place giving the appearance of total chaos but Arthur ( Mr. Richardson to me at the time ) knew which shelf or drawer everything was on or in. For those now only familiar with the supermarket, Arkwright's shop in Open All Hours appears to be fantasy but it was typical of the village shop at the time. Where the road turned towards Kent Green and was joined by Birchtree Lane, was the bus stop and the point where buses turned around. I cannot remember with absolute certainty, but I think that all buses turned around here to take passengers to Tunstall via Chell (Rowbothams) or Tunstall via Kidsgrove (PMT). I seem to recall that the bus to Congleton went from Kent Green Wharf whilst there was a Hollinshead bus to Sandbach every Thursday, which was market day.
On the corner now occupied by Grays Close was the piece of waste land laughingly known as the Recreation Ground (the Rec) The Rec. was probably no more than 30 metres by 15 metres but it is surprising how that space con be utilised for every type of game. Yes, ok, the cricket ball would occasionally crash into the side of a waiting bus on one side or would be the subject of a detailed forensic search in the grass and gorse of the adjacent field on the other side. In passing, it may be of interest that Grays Close was probably named after Mrs.Gray who lived along Birchtree Lane in a slightly elevated position, both socially and geographically. The Gray family operated a transport business from the grounds of their house n Birchtree Lane and were, probably, as close to the local "laird" as you could get. For reasons I never understood, Mrs Gray appeared to be held in great reverence by the local populous and, whilst I cannot remember any of the local men doffing their cap, they were close to doing so. Whilst she was a pillar of the local society she always gave me the impression that she didn't want to socialise with the serfs any more than was necessary. When I was in my early teens she had a visit from one of her granddaughters who was around the same age as myself. At that time I was just starting to take an interest in girls and I arranged o meet her that evening at the Rec. Apparently Mrs. Gray became aware of this and forbade the assignation but she crept out through a back bedroom window. Probably childishly, I felt at the time that than was one nil to the serfs. Apparently Mrs. Gray was furious when she found out.
At the corner of the Rec. was the only public telephone box in or around the village. This was, at the time, the original button A and button B type. For those unfamiliar with this it was necessary to insert the money before dialling the number or going through the operator. If the person at the other end answered, button A was pressed to connect the call or, if there was no answer, button B returned the money. At one point we were told by one of the older boys in the village, that it was possible to get free calls from the phone by tapping out the required number on the receiver rest. The number had to be tapped out by quickly hitting the receiver rest the same number of times as the telephone number with a short gap between the numbers. In fact, it never worked and all that happened was that you ended up with a very sore finger. It was totally pointless in any event since none of us knew anyone who had a telephone anyway. We were told that it was to be kept a closely guarded secret and that it was highly illegal. The result of these warnings was that we had to post a lookout to ensure that we were not caught by bobby Stockton who was the local policemen at the time. Why we thought that he was waiting in some secret communications centre waiting for someone to carry out this evil activity, we must put down to the naivety of youth.
Moving down towards Spring Bank there were a few houses before coming to the run of terraced houses in Smiths Row. There was an alleyway behind all of the backyards of the houses and we often kept ourselves fit by knocking on the front door of a house and running as quickly as possible to the rear alley which gave access to Meadowside Lane which, at that time was simply The Level. I had to be careful because my Uncle Walter (Moors) and Auntie Gladys lived at the house before Smiths Row and the "escape route" to the Level took you right past their gate and garden. Uncle Walter kept, and showed, rabbits so he was often about in the garden and rabbit shed. I suppose that there must have been children living in Smiths Row but I cannot recall any.
The Chapel Below Smiths Row, where the Level (Meadowside Lane) met the main road was, and is, Bank Methodist Chapel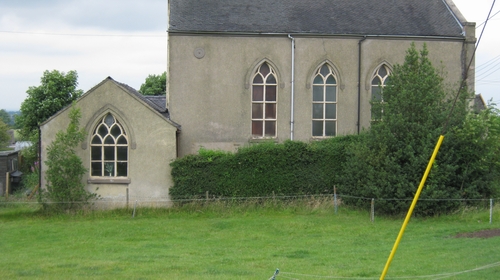 Bank Chapel now looking a little worse for wear.
Bank Chapel played a big part in my early life since this was the place where I attended Sunday School. I started to Sunday School before I started at Woodcocks Well school and attended until I was into my early teens. During my time there, there were two Sunday School Superintendents, Billy Wright and George Dixon. My memories of Billy Wright remind me very much of Captain Mainwaring in Dad's Army. He was a small and somewhat bombastic man who seemed to consider the Chapel to be his own and, whilst he could show signs of a temper from time to time, he alright. George Dixon was one of the mildest men I have ever met. Always courteous, well dressed and well spoken. Looking back they had very different personalities and approaches but the combination worked well, Apart from the Superintendents, the Sunday School had a number of Sunday School Teachers who were lay people from the village. My cousin Ivy Moors was one, Irene Boone who lived virtually opposite the Chapel and Doreen Wright, Billy Wright's younger daughter. Doreen was at College or University at the time but always taught at Sunday School when she was at home. Doreen was great fun and it was often difficult to believe she was the offspring of Billy who was, generally a very sober character.
Sunday School consisted of partly stories from the Bible with explanations given by the teachers and a short service , primarily consisting of hymn singing. To many people today this sounds boring but, in fact, it was a pleasant and rewarding experience. There were "spin offs" from Sunday School which included the Sunday School Youth Club and trips to the seaside. The Youth Club was a chance to play games indoors with your pals and, in later years. A chance to meet the girls. The Sunday School trips were an annual event for the Sunday School children and some parents who helped in supervision. In our case the trips tended to be to Rhyl We gathered excitedly at the Chapel for the arrival of the Hollinshead bus to take us and then there was the rush to select who you would be sitting next to on the bus. This was usually your best mate at the time but there would always be a race for the older lads to sit near to Doreen Wright. There were no motorways so the route to Rhyl was via Winsford, Chester and the cost road through Flint. It probably took about two hours but I remember we always used to stop for "refreshments" at a picnic area just past Winsford which still exists as such today. In today's transport it is probably only a half hour drive to there but it seemed to take quite a while at the time. On arrival in Rhyl (or wherever it was that year) everyone would be given their instructions where we were to meet up for lunch. This would be a fish and chip restaurant with the fixed, and paid for, meal of - guess what? Fish and chips During the day we were supervised and spent most of the time on the beach or on the Pleasure Beach rides if finances allowed. At around 6.30 pm we would board the coach for the journey home. The younger kids were tired out by the day and slept all of the way home but the older ones had sing song's and played games which often involved kissing the girl or girls which you fancied, As I got older I am pleased to say that Doreen Wright was happy to join in !
Every year Sunday School held two other events. The Sunday School Prize Day and Charity Sunday. The prize day involved every Sunday School pupil receiving a book, which they had generally selected for themselves beforehand, These prizes were presented at a special service by a dignitary of some description. Generally this would be senior Methodist Minister but, occasionally would be locally well known lay person. In 1954 my cousin Bill introduced me the lifelong love of my life, Port Vale Football Club. That year they had been the first third division side to reach the semi final of the FA Cup ( and were robbed of a final place by a West Bromwich Albion biased referee) and one of their starts was their goalkeeper Ray King. Imagine my excitement when we were informed that the prizes were to be presented by Ray King who was, I believe, a Methodist lay preacher. When the day came I was sick with excitement and I was so tongue tied that I could barely thank him for the prize. At the time there was no other person in the world that I would have preferred to give me my prize. I could have been meeting the Queen.
The Sunday School Charity was an annual anniversary celebration for the Chapel. Every Chapel in the area held them and, on the two Sundays before the anniversary, a choir from the Chapel would travel around the area singing hymns every few hundred metres. Since this was carried out by all of the Chapels, there would be occasions where the paths of the choirs could cross. Some of the better singers appeared in more than one choir. The day of the Chapel Anniversary was the opportunity to dress up in your finery. We, as children, were whisked away to Burtons in Tunstall weeks before the event to get a new suit (with short trousers) and new shoes. The shoes were put away and hidden to prevent you playing football in them before the big day. Children from the Sunday School were selected to sing solos at the Anniversary which was as nerve wracking to a ten year old as appearing at the London Paladium, There were two "performances" during the day - a service in the afternoon and the same thing again in the evening which did have the advantage of having two bites of the cherry if you wer singing a solo.
My association with Bank Chapel was good. I met some lovely people and the grounding which my parents had given me as the right way to live a life, was reinforced at the Chapel.
Home Life
At about the time that I started at Wolstanton Grammar School my Auntie Annie died aged 57. By that time Eric Cotterill had recently finished his National Service and Bill Cotterill was 15 and had just started to work in the Potteries. Uncle Cephos had never been skilled at handling life and the death of Auntie Annie was a major blow. It was decided that Bill would come to live with us until things had evened themselves out. In the event, Bill stayed with us for about a year which was fine by me since we were big mates anyway.
This was how families were in those days. My mother and father provided a home for my paternal grandfather from the date of their marriage in 1942 until his death when I was eight in 1952. My Grandfather had been totally blind for many years prior to his death, which naturally meant more work for mother and father. It should be remembered that the house had only two bedrooms, one of which was extremely small. It was less than two years after the death of my grandfather, that Auntie Annie died and Bill joined us but, shortly after Bill went back home, a elderly maiden aunt of my mothers fell into the fire at her home in Macclesfield and badly burned her scalp. Since she was too infirm to look after herself, my mother and father took her in which is where she stayed until her death when I was about fifteen. I, therefore, up to the age of fifteen not only shared a house with my mother and father but my grandfather, my cousin and a great aunt who, I think, hated everyone in the world. I got on brilliantly with my grandfather and with Bill but great aunt Lizzie was extremely challenging for all of us.
Bill always had a problem getting up in the morning so, if he was due to catch the bus to work at 8.00 my mother would have to start shouting him at around 6.30am. Even then she had to lie to him by saying it was twenty minutes later than it actually was, to try to instil some urgency in him. Even when he came downstairs he would sit with head in hands staring at the fire. Bill was simply not a morning person. In truth, I cannot recall a great deal of the time that Bill was living with us. He went to work and I went to school and when I got home I would rush through my homework and then I would be off to play football, Bill would occasionally join us but that was rare. The pair of us would go together to Port Vale every other weekend but, other than that, we were developing our own lives and circles of friends.
Chris Hallen lived at the big house on the left along Mill Lane which was also acceptable via a small path running down the side of Bank Chapel, At the time, Chris lived with his mother, father and brother Mick whilst their older brother, Tony, had married Eireen Boon and lived virtually opposite Bank Chapel.
It was not long after this that David Cliff moved into the village to live in the house at the end of Birch Tree Lane where the lane meets the Drumbers. David's father and mother had a fruit and vegetable business in Tunstall and David went to school at Lawton Hall. We first met on the bus going to school and became mates until the present day, he having been my best man, and I his..